Uh, is this thing on? Yes? You can hear me? Okay, great.
For those who might be reading The Draft Network for the first time in this column, to you I give a very warm "where the heck have you been?" I mean, the site launched on Monday. You're late. Don't let it happen again.
But, seriously, welcome to your new home for NFL Draft coverage for the 2019 season and beyond. We, as the TDN staff, hope to give you the most comprehensive draft coverage you could possibly imagine, one that enables you to become just as much of an expect in the subject as those who write the articles you read -- who knows, maybe you'll be writing them someday.
One of the ways we're going to accomplish that goal is with the installation of weekly columns for five of the writers on staff. We've already seen two so far, Kyle Crabbs' Studs & Duds (every Monday) and Jon Ledyard's Draft Class Heroes (every Tuesday), and later in the week you'll read Joe Marino's 6-Pack Thursday as well as Connor Rogers' On The Radar column.
As for me, this is my little corner of the draft world, a column I've titled: 5-Play Prospect. In this column, as its name suggests, we're going to take a look at five different plays of a 2019 prospect's tape and either introduce him to you, finish up a scouting report on him, teach you a few new things or maybe even a combination of all three.
This week we're kicking things off with a player who we haven't seen a ton of yet, but a guy who has really flashed in the limited time he's been given going into this season.
This week we're talking about Alabama safety Deionte Thompson.
Play No. 1: The Range (in coverage)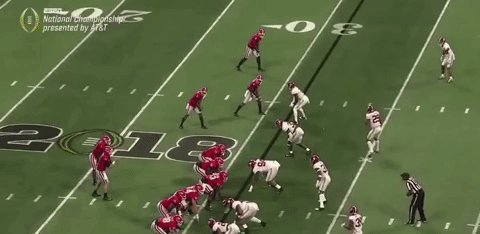 OK, this kid can fly.
Thompson walked on campus at Alabama two years ago weighing about a buck-73 soaking wet -- that's 173 pounds. So, if he didn't have some speed on that 6-foot-2 frame, we'd be worried. But now he's reportedly around 196 pounds and can still move with speed like we saw in the clip above. We like that.
I remember watching that game and seeing that play live and immediately thinking "Uh, who is No. 14 for Alabama who just moved into my Top 5 safeties without even knowing his name." If I had The Draft Network's Prospect Database back then I would have been able to quickly learn of Thompson's name, background and that he was a redshirt sophomore last season.
That play was one of a handful that Thompson was able to make with such limited playing time in 2017. On that play, he displayed a combination of traits that I value most when it comes to safety play: the range to reach sidelines and deep-field locations, and the ball skills to impact completions when he gets there.
Play No. 2: The Range (in support)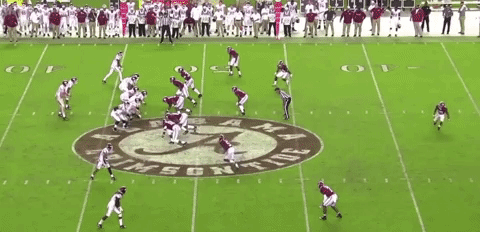 In the play above, Thompson once again showed off some impressive range, but in a way that ended with a big hit and not a pass defended. To me, due to when the ball arrived and how quickly Thompson could have gotten there, I would still say that's quite impressive how he was able to stop that play dead in its tracks as quickly as he did.
At this point, I'm sure you're asking yourself, if this kid could fly in coverage and lay big hits, why didn't he get much playing time last year? Thompson was just a redshirt sophomore in 2017 and was behind senior Hootie Jones on the depth chart. When Jones went down with an injury before the College Football Playoff, Thompson stepped in -- more like kicked the door in.
Play No. 3: Ain't Scared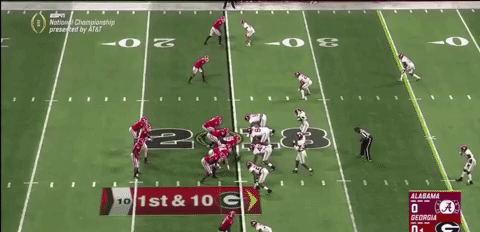 When Thompson was about to step into the starting role after Jones went down, fellow defensive back Levi Wallace had this to say of Thompson.
"Deionte plays with something else that a lot of us don't have," Wallace said. "He gives his all on everything single play even in practice to the point where it's like he's going to hurt himself. He does a great job. He's preparing, he's excited and we're excited for him. I know he's going to go out there and do his job."
I'd say going full speed through a block at Nick Chubb is definitely an urgency close to the point of hurting yourself. But your teammates see that and respect the hell out of it, especially when you make the play and get right up to make the next one.
Play No. 4: Recklessly Successful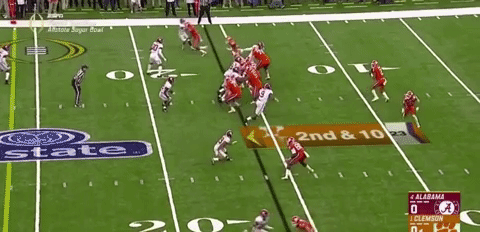 As I go through these preseason and early-season 5-Play Prospect columns, I'm not going to be too critical of guys just yet. I'd much rather focus on things they can do. But, for Thompson, it is worth pointing out that the speed at which he plays is what you love but also something that gets him in a bit of trouble. For instance, in the play above, he makes the tackle, but he had to stumble to get there because of how hard he was approaching the line of scrimmage.
He doesn't have to be Luis Mendoza from the Mighty Ducks 2 movie.
Play No. 5: Read & React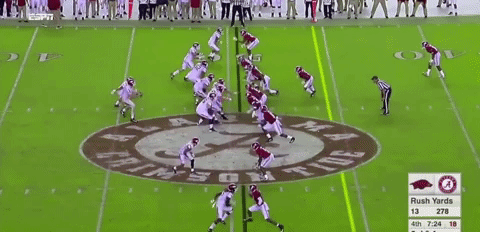 With such little starting experience under his belt, it's impressive how Thompson already understands his responsibilities and makes an impact as a safety. He can read a quarterback's eyes, make breaks on routes with great speed, make plays on the ball in the air and isn't afraid to lower the shoulder -- he's willing, even. His ability to read and react in both the run game and pass game are beyond his years. Pair that with the flashes of athleticism we've seen and you have my full attention.
As Alabama enters the 2018 season, Thompson is one of the only "starters" returning. But even though he only started two games, his head coach, Nick Saban, had no problem calling him a starter, a leader and a player to get excited about.
"He played almost two full games, two very big games, and did a really, really good job," Saban said. "I think it helped his confidence a lot. I think he's a lot more confident in what he's supposed to do, he has a better understanding. Certainly has a lot of confidence that he can do it because he did play very well for us in those two games. We're excited about that."
We're excited, too, Nick. We're excited, too.