If you've followed me for any length of time, you know that I dislike the idea of a sleeper quarterback. I accept the fact that it's a legitimate part of every draft, but the odds of a non-top 40 quarterback panning out as your franchise signal caller are astronomically low. Everyone likes to talk about the Tom Brady and Russell Wilson's, but in reality your best case scenario is likely a Dak Prescott or a Kirk Cousins. And even those types are extremely few-and-far between.
If you're a quarterback taken outside of the top 40, the most likely outcome for your career is as a quality backup who makes a nice career in the NFL, moonlighting as a starter with the occasional strong performance, but generally needing a terrific supporting cast and offensive system in place to even maximize your relatively limited skill set.
Sound harsh? Sorry, that's the reality of the NFL. There are 32 starters, 10 of them suck, 5-8 are ok and the rest are your preferable starters. If you want a quality quarterback, take a chance on him in Round 1 or don't take one at all, unless a solid backup is high on the roster priority list.
Nevertheless...here we are. Looking at 2019 quarterback prospects to find the one sleeper who will likely come off the board on day three, but has an outside shot of making an NFL roster and one day achieving real playing time. For me, in this class, Ole Miss quarterback Jordan Ta'amu is that guy.
Ta'amu received basically no praise the entire season, despite the fact that he was easily the best draft-eligible quarterback in the SEC throughout most of the year. I would agree that Drew Lock's tools, traits and growth toward the end of the season make him a better pro option compared to Ta'amu, but I don't see anything on tape that would put Jarrett Stidham over the Ole Miss signal caller as a prospect.
So what makes Ta'amu the ideal quarterback to take a chance on in the mid-rounds of the draft? Let's take a look at his skill set.
Accuracy
The main reason why I think Ta'amu has a shot to become at least a spot starter in the NFL is his accuracy. He throws a gorgeous ball to all levels of the field, and is consistently accurate from a clean platform. Sound mechanics lead to an accurate ball whether he drives it to a spot with velocity or throws with touch over the top.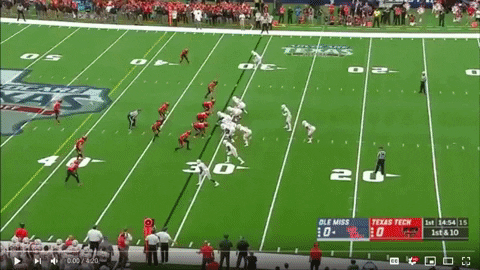 Quick set up, accurate throw, leads the receiver away from the defender closing on his inside hip. Ta'amu and DaMarkus Lodge have done this rep 1000x, and the chemistry and timing are near perfect on tape. It's a simple pattern, but how many "good" quarterbacks have we seen over the years that are inconsistent on the simple throws? Heck, even in this class a couple come to mind.
Ta'amu almost never misses the bunnies and the layups. Not only that, he throws with timing, velocity and ball placement to maximize yards after catch. In the short-intermediate areas of the field, as long as he's given a relatively clean pocket, he can fit the ball in tight windows right where his receiver wants it.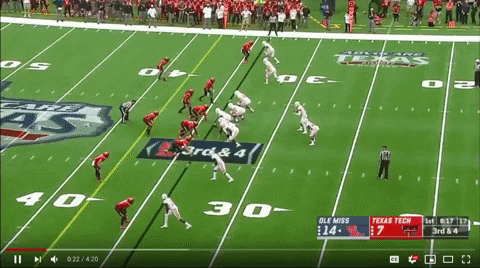 Expiring window on the quick out to Dawson Knox, yet Ta'amu throws confidently with perfect velocity and placement to where only his receiver can come up with the football. First down on 3rd-and-4. Note the perfect mechanics.
Deep Ball
You don't have to watch Ta'amu for long to see how accurate he is short-intermediate, but what might surprise you is how gorgeous his deep ball is. He can throw with touch and throw for distance, placing the ball well to lead his receiver when they have a step, or put it up high and away where only they can get it.
This is great coverage, but Ta'amu's throw angles his receiver back to the boundary and away from the leveraged defender. He was on fire against Texas Tech in Week 1, dropping dimes down the field left and right.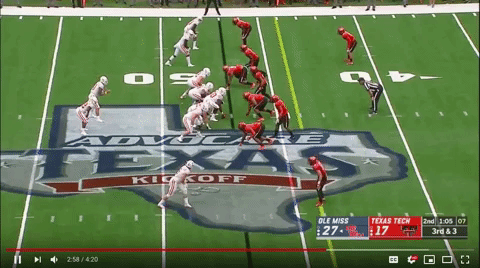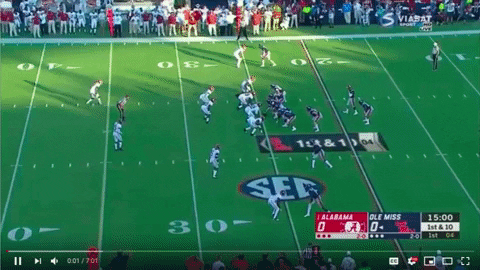 Ta'amu's ability to throw with excellent touch and drop the ball in a bucket led to big plays all season long for Ole Miss, and it will translate to the NFL if he's protected. He's not afraid to take a shot and give his receivers a chance to make a play, which is an undervalued trait in a quarterback when scouting them for the NFL. You have to be willing to take some chances even if you get burnt a few times.
Release
Ta'amu's accuracy is aided by his mechanics and quick release as a passer. His motion is rapid and snappy as you saw in the clips above, but can also be altered when he's off-platform or on the run.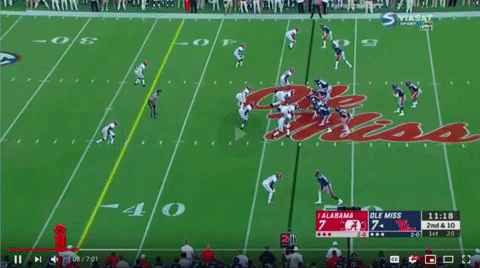 Wheels away from Mack Wilson on the blitz, scrambles outside the pocket, gets his shoulders squared while on the move and delivers an accurate strike to the sideline that would likely have been caught if not for a great play by Trevon Diggs on D.K. Metcalf.
Ta'amu also has the unique ability to alter his arm angle and throw around traffic while still maintaining accuracy. This toss wasn't Patrick Mahomes-esque, but it was pretty sweet.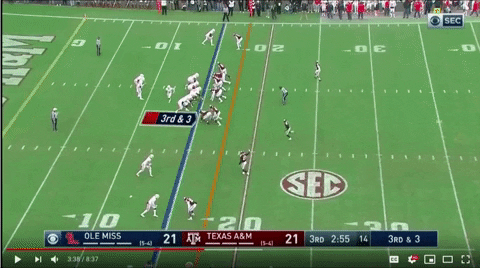 The ability to still generate some velocity and place the ball accuracy without having your feet set properly is something Ta'amu flashes, but doesn't do consistently. But the ability is there, and it's something exciting to build on for his future.
Athleticism/Toughness/Character
An excellent athlete with good mobility, Ta'amu rushed for well over 300 yards this season despite not getting a ton of designed run calls. Ole Miss built a few into the offense, but most of his yardage came off scramble and improvisation when plays broke down.
Listen to Ta'amu's coaches and teammates, and they'll rave about his toughness, work ethic, character and poise. Despite being a smaller quarterback, Ta'amu frequently absorbed contact to make plays, showing a valor on the field that was not lost on his peers.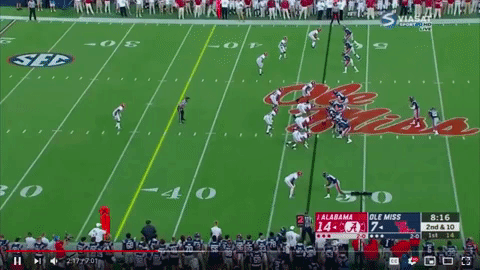 Yep, he gets his bell rung and fumbles, but this play is of a player who knew the kind of effort it was going to take to beat Alabama. Question the decision-making if you want, but not the heart.
Ta'amu is a quiet leader, but a leader nonetheless. His personality might not scream alpha male, but he's calm, collected and not given to emotional highs and lows. That demeanor will be attractive to NFL coaches considering the work he'll have to put in to reach his peak.
Mental Processing/Progressions/Poise Under Pressure
So the physical and athletic tools are impressive, and the mechanics and accuracy are good...what's the problem? Ta'amu has a couple major flaws that could prove fatal depending on his landing spot.
The first is Ole Miss' offense SLASH his own lack of field vision and awareness as a passer. In an interview with Bruce Feldman that you should absolutely read, (now former) Ole Miss offensive coordinator Phil Longo explained the quarterback's role in his offense
"The guy that is the most important is the one I was asking to do too much," he said. "I just want him to execute the play. Our quarterback gets the signal, IDs the coverage and takes the snap. We delegate all the QB's duties out to everybody else."
Longo goes on to say how he has receivers read the defense and get open accordingly, while the quarterback simply moves from one target to the next without as much processing of coverage, alignment or movement post-snap. In theory that can be successful, but what it can also lead to is Ta'amu waiting for his first option to open at times, negating eye manipulation and secondary reads that could lead to a successful play.
Not all of Ta'amu's eight interceptions this season were all his fault, but this one definitely is. Again, it's hard to know how much Longo's very unique offense aided his development from the neck up, but too often on tape Ta'amu stares down his primary target and doesn't attempt to move the defense or ID the coverage post-snap, which can lead to mistakes like this against more savvy defenses.
His stat lines against LSU and Alabama look dreadful, however it should be noted he was consistently under pressure, often hit as he threw and suffered a multitude of drops in both those games that made things look much worse on paper.
Still, Ta'amu's biggest area of growth in the NFL will easily be on the mental side of things. He struggles to move through progressions, he can lose his poise in the pocket if he's uncomfortable early in the rep and he'll drop his eyes against pressure as well.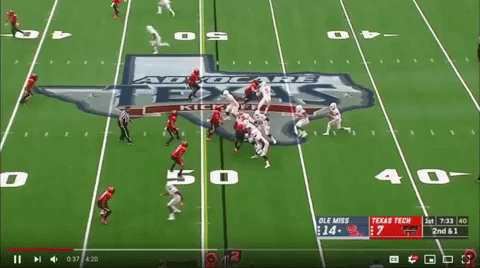 Ta'amu has A.J. Brown on a curl here, wide open underneath (he breaks just off screen). But instead of releasing the ball and potentially taking a shot, Ta'amu drops his eyes and takes a sack. Gotta pull that trigger.
That's a consistent issue with Ta'amu: missing open receivers, especially when they aren't his first read in the progression. Take the play below for instance.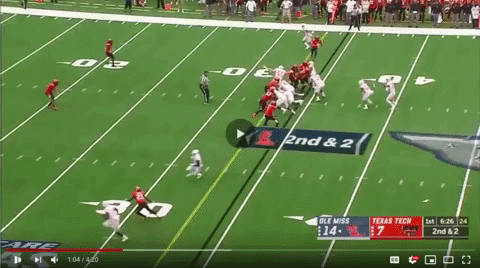 Ta'amu wants to go to Brown in the flat, but the cornerback sits on the route. He makes a good decision not to throw it, but the pocket is still clean. Make a play. Braylon Sanders comes open right in front of him running to the middle of the field, Ta'amu looks right at him and doesn't pull the trigger. Why? I don't know. But it showed up way too often on tape.
When I do Dawson Knox's write-up, you'll see how often he was running around wide open, waving his arms, and Ta'amu never saw him. Again, I don't think the offense helped develop Ta'amu's vision as a passer or his ability to work full-field progressions, and he didn't seem to uncover that attribute naturally either. Despite his raw ability when things break down, Ta'amu is at his best as a rhythm passer taking the occasional downfield shot. He needs a lot of development above the shoulders to do more than manage a game as a passer right now.
Other Concerns
Ta'amu is slight of frame for a quarterback, and he has been banged up a bit throughout his college career. He came to Ole Miss after two seasons of JUCO ball, and he's only started 16 games for the Rebels. His lack of experience suggests he's still capable of growing and improving with time and coaching, but he's unlikely to be ready to start as a rookie, and it could be awhile after that depending on how fast he picks up pro concepts.
Summary
This article was not written to tell you all about the perfect quarterback prospect nobody is talking about right now. It was written to tell you about an ideal developmental passer who has the traits, athleticism and intangibles you want at the position despite still needing plenty of development in his mental processing, field vision, poise under pressure, pocket management and decision-making.
In a league that covets quarterbacks with tools and character, it's befuddling to me why Ta'amu is receiving zero attention while quarterbacks with all kinds of flaws are being billed as Round 1 candidates. I'm not suggesting we put Ta'amu in their conversation, I'm suggesting we put them into his conversation. And keep him in that conversation.
The odds of Ta'amu becoming a franchise quarterback are slim - like almost every other quarterback in this class. But if you're looking for upside and a lot of the baseline traits needed to be a successful signal caller in the NFL, Ta'amu might be exactly what you need, and you might not need to spend more than a day three pick to get him.